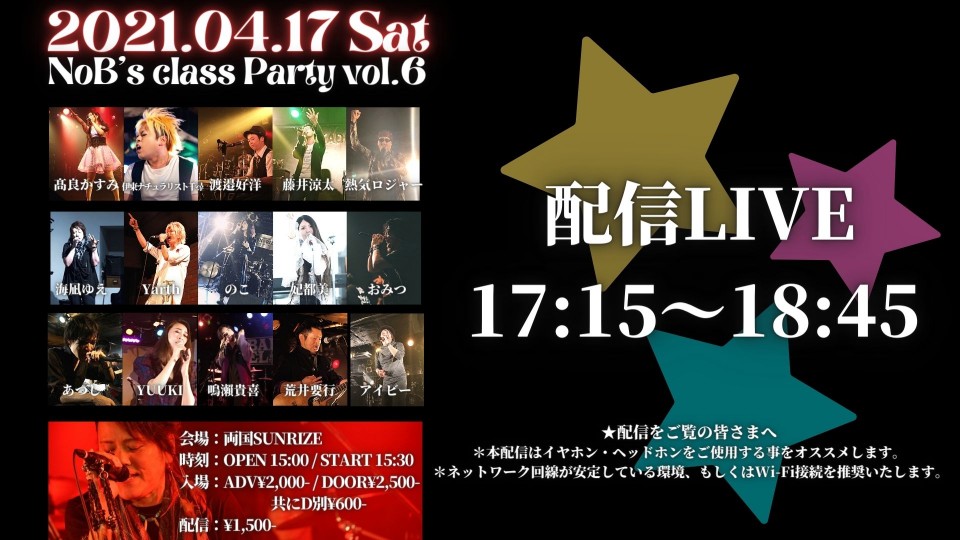 ★Attention
This is a live performance in Japan time.

2021.04.17 Sat
Ryogoku SUNRIZE

NoB's class presents
[NoB's class Party vol.6

★Performers
藤井涼太
渡邉好洋
伊東ナチュラリスト千尋
あつし
YUUKI
髙良かすみ
海凪ゆえ
熱気ロジャー
妃都美
のこ
荒井要行
Yarth
おみつ
アイビー
鳴瀨貴喜

To those who wish to purchase a ticket

Please enjoy this program with earphones or headphones.
Please make sure you have a stable connection.

Even after the broadcast ends, you can still watch the archive (recording) by purchasing a ticket until May 1.
Videos for Premier Live (1)
Note: You can also watch videos for available period.
Purchase Ticket
Live has already finished. Videos may be available, but please check the available period before purchase.