AFRIRAMPO STREAMNG SHOW!!
Cannot purchase this item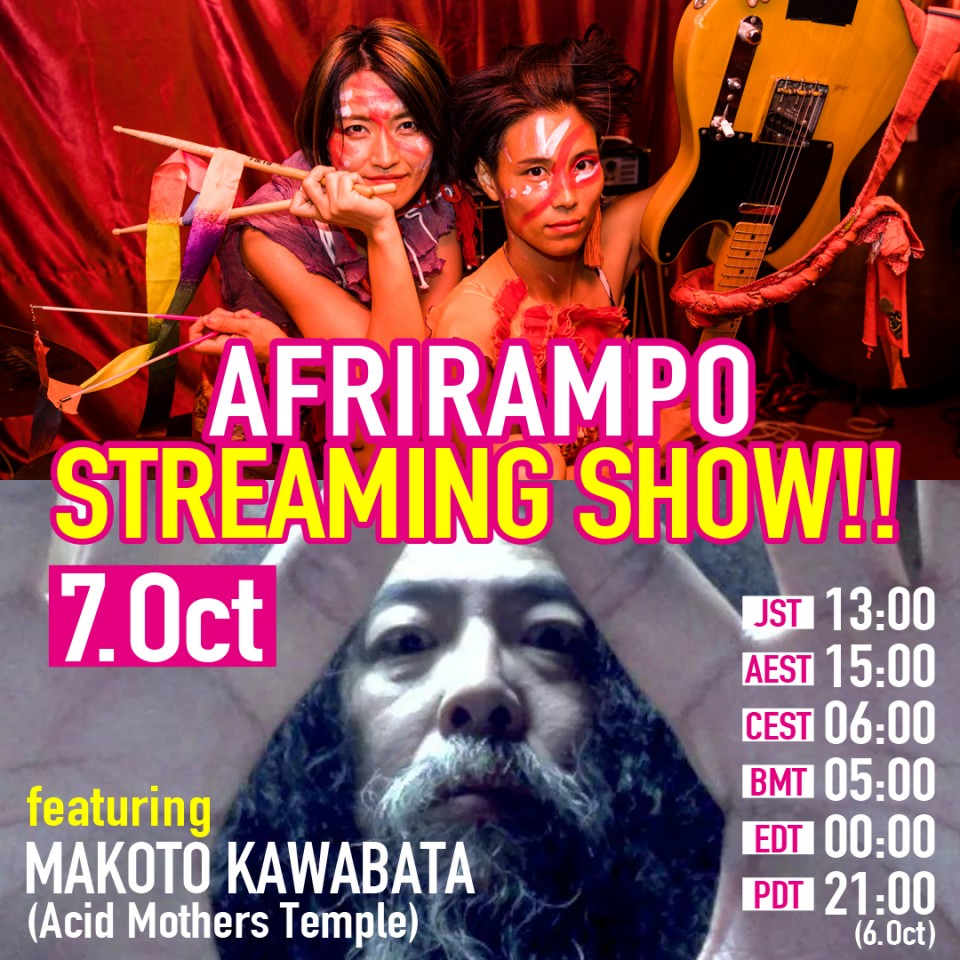 10/7/2020 (Wed) 13:00 JST


Video will not be published
2,000 JPY
佐伯真有美
@f:1251927281813402
あふりらんぽ、初の海外生配信!!基本アメリカ時間に合わせての初お昼間配信!
スペシャルゲスト河端一(Acid Mothers Temple)!!3人で奏でる音楽はコズミック果てしないサイケワールドにあなたをいざないまくります!
更に今回は、舞台美術に美術家・水内義人が加わり、愉快なカオス反応が起こること間違いないスペシャルライブ!!!!!アーカイブも2週間見れるので、ぜひぜひ!日本のみんなももちろん要チェックしてね!!
13時から14時半(予定)堺FANDANGOより

舞台美術:水内義人
配信:ケチャップマヨネーズ
撮影:佐伯慎亮 

●英語版のチケット購入方法はこちら!●
●YOU CAN SEE HOW TO BUY THE TICKET!!in ENGLISH!!here●
Pics:  https://note.com/afrirampo/n/nfe4ad97d..
Movie:https://www.youtube.com/watch?v=y1HHX8..




AFRIRAMPO STREAMING SHOW!!!FOR U.S &EU!!!!
featuring MAKOTO KAWABATA!!from Acid Mothers Temple!!
we all will play cosmic forever&ever space sound!!!
Stage art is YOSHIHITO MIZUUCHI (contemporary artist)!!!it will be happen miracle chaos show!!

you can watch archive 2weeks!!!so,everybody can buy the ticket and watch in the WORLD!!!!




Oct.7th.13:00 (JST) 90min. 2000JPY
@ FANDANGO OSAKA,JAPAN

15:00 ~(AEST)
06:00 ~ (CEST)
05:00 ~ (BMT)
00:00 ~ (EDT)
23:00 (6th) ~ (CDT)
22:00 (6th) ~ (MDT)
21:00 (6th) ~ (PDT)

also, if you will be happy for donation!!
you can donate here! thankYOU! paypal.me/afrirampo

Check it OUT!!!MUST WATCH!!!!!!!!!!!!!!!!!!!!!!
About Payments
Use your credit card to make payments.